G-Class air-cooled, oil-free chillers
G-Class is an optimal solution for applications requiring quiet, efficient cooling.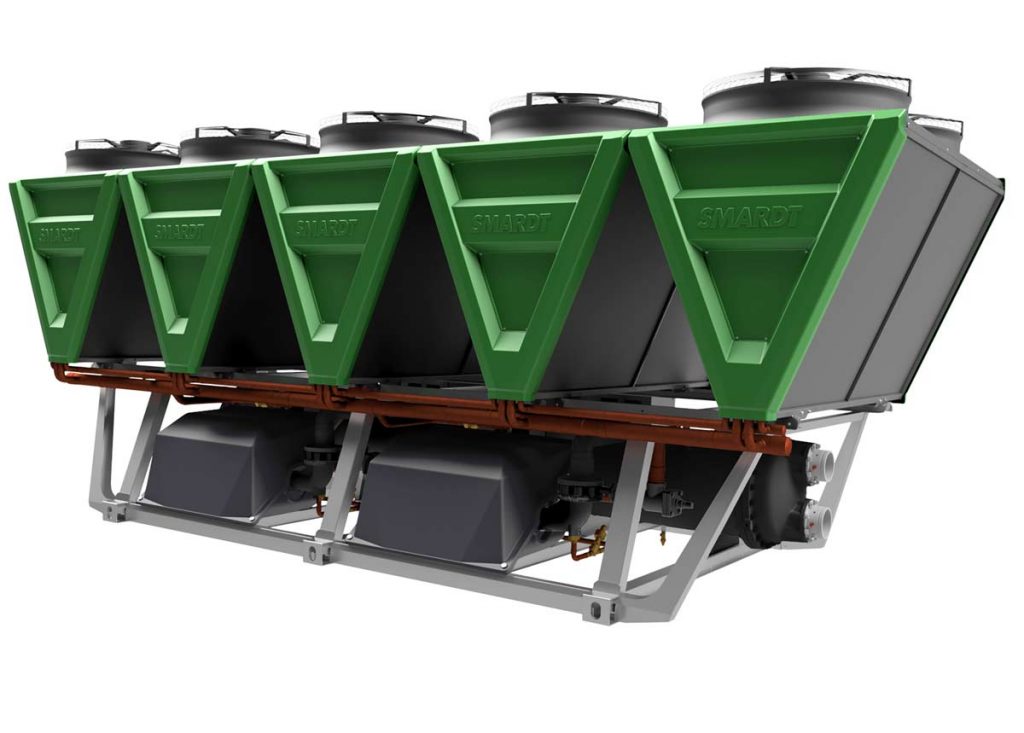 So quiet you can have a normal conversation standing next to the machine!
Revolutionary low-noise operation with high efficiency
When noisy cooling systems are a big concern, Smardt provides the optimal solution: TA-Class oil-free chillers.
A chiller that knows when to hush
Smardt TA-Class sound ratings are typically below 85 dBA at 1 meter. That's about 20 dBA lower than conventional air-cooled screw chillers—almost 25% quieter.


The Smardt TA-Class is well suited for installations where excessive noise is not permitted at certain times; e.g. residential neighborhoods at night. The system's Active Noise Control feature allows you to limit the chiller's sound output during specific periods of operation.
40% more efficient than ASHRAE code demands
Variable speed enables the  Smardt TA-Class chiller to  precisely match capacity with greater energy efficiency.  In comparison to ASHRAE® 90.1-2016,  Smardt TA-Class oil-free air-cooled chillers have Integrated Part Load Values (IPLV) over 40% more efficient.


What's more, Smardt's Free-Cooling* integrates special bypass circuitry, controls, and safeguards. Our optional Free-Cooling package can dramatically increase TA-Class chiller efficiencies–at low ambient temperatures.


*Available on Smardt TA-Class AD design series chillers
Key features and benefits:
An abundance of cost saving measures
Older variable-speed screw chillers require a large footprint on the roof top. They are noisy and energy intensive.

Smardt TA-Class oil-free air-cooled chillers, by comparison are extremely quiet. They are also highly efficient, especially at part load. The result: is lower power consumption when running your Smardt chiller. Pay back your investment within 2 years or sooner.
Your investment in any Smardt oil-free magnetic bearing chiller provides:
Want to rent Smardt chillers?
Contact a specialist to learn more about our rental services. 
Talk to an expert to find out which product is right for you, and how much you can save.