E-Class evaporatively-cooled chillers
Revolutionary technology for peak demand and harsh conditions.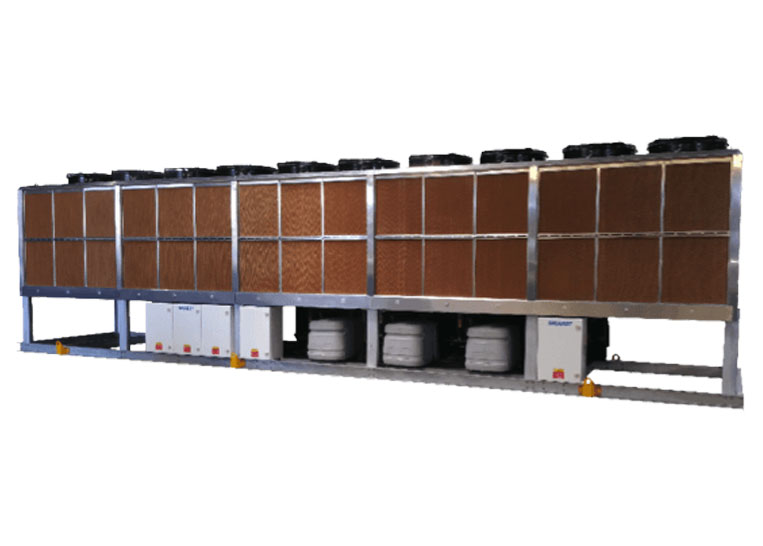 Innovative E-Class chillers with advanced adiabatic engineering
45–530 TR (160–1860 kW)
Oil-free compressor(s): R1234ze, R515B, R513A, and R134a
ETL Certified, CE
Unlike water and air-cooled chillers, Smardt E-Class machines use a unique chilling technology with evaporation at its core.
An integrated adiabatic cooling system increases the condenser's effectiveness, reducing the power required by the compressor. Doing so enables the compressor to operate in challenging ambient conditions such as warm or dry climates.
Full-load design and capacity selections are available for ambient air temperatures exceeding 122°F 50°C, with comparatively high efficiency.
Lower water consumption than cooling towers
Cooling towers must evaporate water to shed their entire heat load. By comparison, E-Class condensers use an evaporative system to pre-cool the ambient air using significantly less water.
The cool air flows across a high-efficiency, air-cooled coil. This enables the E-Class condenser to automatically switch off its evaporative system in appropriate ambient conditions vs. cooling towers that continuously consume water.
All E-Class chillers come standard R134a refrigerant. R1234ze and R515B low-GWP refrigerant options are also available.
Plus, unlike cooling towers, the E-Class system does not require chemical treatment of condenser discharge for safe water disposal.
Key features and benefits:
E-Class chillers outperform conventional "wet-pads" in challenging environments
Smardt's E-Class evaporative chillers reliably and responsibly deliver high efficiencies across extended operating conditions. The E-Class features a purpose-built high-efficiency evaporative condenser. 
Conventional wet pads are horizontal. The E-Class vertical wet pads use gravity to ensure maximum humidification efficiency. The vertical wet pads also prevent spray drift or carry-over from wasting water. 
Completely assembled for quick and easy installation
All Smardt chillers are factory assembled and tested to ensure trouble-free start-up and commissioning. E-Class chillers are delivered to the site as completely assembled, single-piece units. No need to fit evaporative pads, sumps, or framing on site.
High reliability and easy to service
On multiple-compressor E-Class models, mechanical and electrical isolation provide redundancy and fail safes. In addition, electrical terminals, compressors, valves, and critical system components are not exposed to humid, pre-cooled condenser airflow.
Want to rent Smardt chillers?
Contact a specialist to learn more about our rental services. 
Talk to an expert to find out which product is right for you, and how much you can save.