"The goal was to acquire reliable, energy-efficient chillers that would last 25 to 30 years. With the SMARDT chillers and their Turbocor technology, we believe that it's the best investment we could have made."
- John Rauch, Operations Manager
When the building owner is NFL Films, the failure of the HVAC system can cause a lot more than discomfort — it can be catastrophic. The 200,000 sq. ft. NFL Films studio complex houses the world's largest sports film library. To keep the films preserved, the temperature in the vault needs to be maintained at 54°F. In addition, cool temperatures are critical during the production of television programs at the complex. If the air conditioning fails, the show's hosts and their makeup can quickly melt. For NFL Films, a reliable air conditioning system is a lot more critical than for a conventional office building.
T-Class water-cooled
450 ton (x 2 chillers)
No one knows this better than John Rauch, Operations Manager, of Marubeni Sustainable Energy, the company that provides building operations services for the NFL Films headquarters complex in Mount Laurel, New Jersey.
Shortly after The Tustin Group, a mechanical contractor, came on board, a catastrophic failure occurred in the HVAC system. "We lost 60% of our capacity and we were going into the summertime,"


"We needed an immediate temporary solution before we could even begin to make a decision on whether to repair the machines or buy new ones." Tustin installed a temporary chiller on site. "We spent twelve months using the temporary chiller while trying to repair the old chiller," said Rauch. "During those twelve months, we began researching the latest in chiller technology. That's when we came upon SMARDT chillers, which feature a completely different technology than the chillers we were using."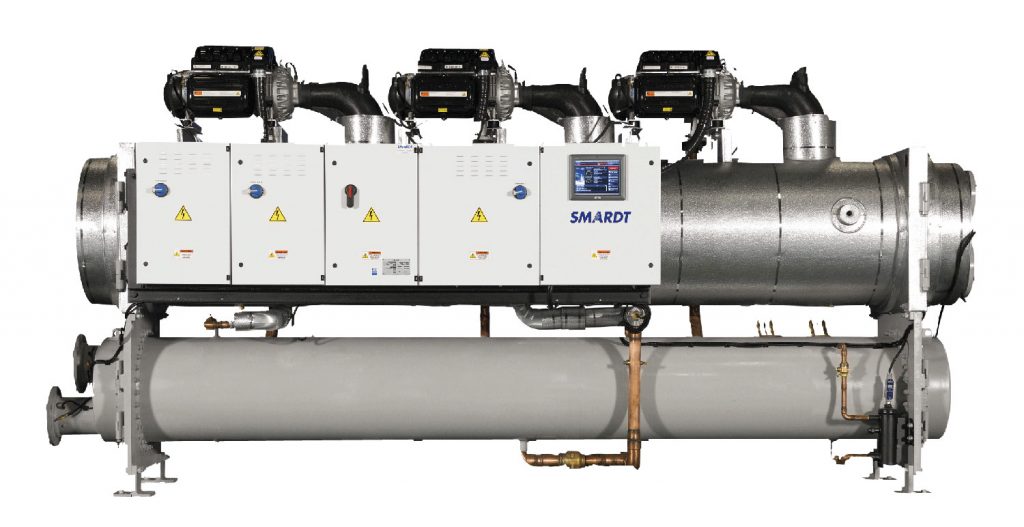 New Chillers are Highly Energy Efficient 
When it was eventually determined that Marubeni couldn't be 100% confident in repairing the old chiller, the decision was made to replace not one, but both, machines with SMARDT chillers. "The SMARDT chillers utilize oil-free centrifugal compressor technology, which boosts energy efficiency and cuts operating costs," said Rauch. "It provides much better efficiencies than the conventional oil-lubricated compressors on our old machines.
Since we've installed the SMARDT chillers, we've realized a 10-12% reduction in the consumption of electricity on a monthly basis. The NFL Films complex uses a lot of electricity — about 11 million kWh per year with the old machines. With these new machines, we should be under 10 million kWh this year, resulting in a 10% reduction.