On Wednesday, 10th of October, 2018, Smardt completed the formation of a global joint venture with TICA Group, China market leader in high-efficiency ventilation solutions. The new joint venture will continue to develop the Smardt and TICA brands and the existing Smardt factories in Montreal, Melbourne, New York, Guangzhou and Stuttgart, where immediate expansion is slated. Smardt's existing global distribution channels will add a new range of TICA air-handling units from 2019 onwards.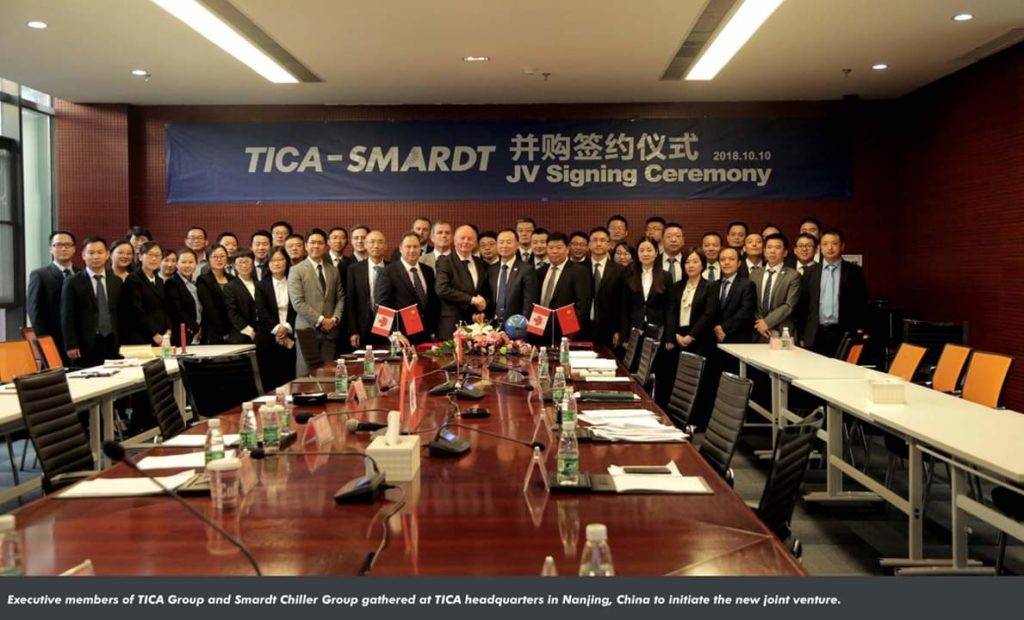 The new TICA-Smardt JV will accelerate the global adoption of oil-free chiller technology.
TICA's extensive array of factories and R&D facilities in Nanjing, Tianjin, Guangzhou, Chengdu and Kuala Lumpur will support further expansion of Smardt's oil-free centrifugal chiller product range, in China and global markets. TICA holds a controlling interest in the new joint venture, which plans to accelerate development of comprehensive oil-free solutions in its key global markets of metros, data centres, pharmaceutical, manufacturing, healthcare, automotive, hotels, district cooling and process cooling.
The new group plans gross revenues of some USD 1 billion and in major energy-efficiency projects shows rapid growth.
Smardt was founded in Montreal in 2005 by Turbocor founder Roger Richmond-Smith, who remains Smardt chairman and CEO, working closely with Jiang Li, chairman and CEO of TICA. No changes in senior personnel are contemplated in the transaction, whose financial details are not disclosed.
"I'm delighted that this joint venture is now in place," said Mr. Richmond-Smith today. "Our last joint venture, between Turbocor and Danfoss, powered the worldwide development of the breakthrough oil-free magnetic bearing technology we pioneered in Australia 25 years ago. This TICA-Smardt joint venture aims to bring chilled water plant and air handling systems together, driving oil-free technology through to optimised whole-building solutions. Advances in artificial intelligence make this prospect totally feasible," he said.
"There's a potential revolution here for our customers, just waiting for us to make it happen," Mr. Jiang concluded.​
Further information:
Background: please see websites www.smardt.com and www.ticachina.com 
Further information, please contact:
Cam Whitelaw, Group Marketing Manager, Smardt Chiller Group Inc. 
Tel: +1 514 244 3386; Email: 203179@email4pr.com 
Albert Yam, Vice President, Nanjing TICA Climate Solutions Ltd. 
Tel: +86 153 6611 5828; Email: 203179@email4pr.com
SOURCE Smardt Chiller Group
https://www.prnewswire.com/news-releases/new-cleantech-joint-venture-plans-global-oil-free-revolution-300729976.html